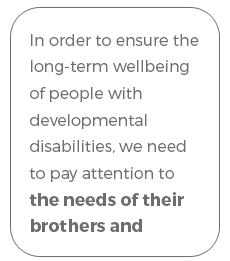 Understanding the Sibling Experience
Our relationship with our sibling is often one of our longest-lived and strongest connections. We are companions for life.
This relationship becomes even more fundamental when our sibling is vulnerable and marginalized, as is often the case for many people with disabilities.
The Sibling Collaborative welcomes adults who have a sibling who identifies as having a disability. We also welcome siblings-in-law, cousins and second-generation caregivers.

As an adult who has a sibling with a disability, our experiences are diverse and profound. Yet, our stories are often overlooked and even forgotten as our families wrestle with the pressing issues that affect our brothers and sisters, such as ensuring inclusion in the school system, meaningful participation in the community, access to supports, employment, appropriate medical care and planning for the future.
While this can be a lonely journey, the Sibling Collaborative is here to help.

About The Sibling Collaborative
Our relationships with our brothers and sisters with a disability evolve over time, especially as our parents, who are the main source of care, age.

Eventually, many of us find that we must prepare for, step in to or take on new roles and responsibilities in the lives of our siblings with disabilities that we may not be prepared for.

The Sibling Collaborative wants to help you thrive in the present and face the future with:
supportive connections with other siblings;

opportunities to share and learn from other sibling experiences;

access to helpful and relevant resources; and

information to improve well-being over the long term for both you and your sibling.
The Sibling Collaborative unites and strengthens siblings by building networks of peer support and sharing our experiences with each other, our families and beyond.


We also seek to deepen our understanding of the experience of siblings through research and advocate for positive change to the systems that affect not only our brothers and sisters but also us, our families and our communities.
The Sibling Collaborative Pillars of Support

The Sibling Collaborative is focused on helping siblings with navigation in their new role, long-term financial stewardship and building the resilience of siblings so we can thrive both today and into the future.

We offer this support through:

Peer Support Groups

1:1 Peer Support (Mentoring)

Workshops and Online Learning

Research and Advocacy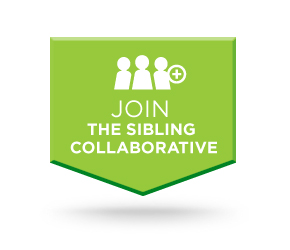 Learn more about the Sibling Collaborative
Check out the Sibling Collaborative's website. Join one of their upcoming Virtual Sibling Meet-ups.
Join the discussion among Canadian siblings on their Facebook page.
Be part of our Sibling Collaborative - you can join right now by clicking on the green button to your left. If you haven't already provided us with your email address and are interested in future events, meet-ups or information, join our email list or email info@siblingcollaborative.org to learn more.