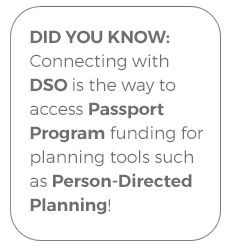 Developmental Services Ontario (DSO) helps adults with developmental disabilities connect to services and supports within their communities. Wherever you live in Ontario, DSO can help you or someone you care for connect with:
- residential supports
- caregiver respite
- community participation
- supports (such as for volunteering or employment)
- professional and specialized services
- the passport program and person-directed planning
- various other supports to assist individuals with disabilities to become more involved in their communities.

To learn which services and supports are currently available within your community visit the DSO website.


Connecting with DSO:
Your local DSO can provide information on services and supports available in your community

It's important to connect to the DSO as soon as possible because the waiting lists for services are long

We also recommend connecting with the DSO as soon as possible after your child turns 16. This way, by the time your child is ready to graduate

high school and/or turns 18, your son or daughter will be able to

access all of the

supports and services for which he or she may be eligible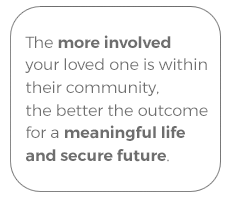 How to find your local DSO:
There are nine DSO offices across Ontario. The best way to find your local area DSO is to visit their website and use their dedicated 'Find Your DSO' page. You can search by postal code, your current location or local county/region.


Application Eligibility:

To apply for funding services, you'll need to:
Prove that you have a developmental disability: You can do this by providing a written psychological assessment completed by a psychologist or psychological associate.
Prove that you live in Ontario: You can show proof by submitting a health card, lease or rental agreement, statement of direct deposit for ODSP, bank account statements with your address on them, driver's license or other government-issued photo ID
Show that you are 18 years of age or older: Documents that prove your age can include a passport, driver's license, health card or another piece of government-issued ID with your name and birthday.


DSO's definition of a developmental disability
Present at birth or is developed before 18 years of age

Affects a person's ability to learn

Permanent

Mild or severe
Once you've gathered the required documents, you can phone your local DSO. The person you speak with will ask you a series of questions to determine eligibility.

After this call, you'll receive a letter letting you know if you qualify for MCCSS funded services. If you are, you'll be connected to a DSO assessor in your area. They will set up 2 meetings where they'll help you decide what types of supports you need. Each of these meetings will be about three hours and you'll need to have 2 people who know you well (e.g. parent, guardian, teacher, etc.) present.

Once these meetings are complete, you'll be connected to services available in your area.

Application Steps:

Applying for DSO funding can be a lengthy process with long wait times. In order to avoid further delays, make sure you have all your documentation and paperwork ready. We've created a short list of steps to keep in mind during the process:
Step 1: Gather documents that prove you reside in Ontario, are 18 or over, and have a developmental disability.
Step 2: Make copies of all your documents before you upload or send them to your DSO office.
Step 3: Contact your local DSO and complete your initial call with your area DSO.
Step 4: Wait to receive your letter telling you if you are eligible for services.
Step 5: If you are eligible, you'll then receive a call from a DSO assessor who will set up 2 further meetings with you.
Step 6: These meetings will take up to 3 hours each and require the presence of 2 people who know you well (teacher, guardian, parent, employer etc.) During these meetings, your goals and needs will be discussed so that the assessor can connect you to the correct services
Step 7: Be patient - the process from initial contact with your DSO to obtaining funding can take months.
Step 8: Keep your local DSO informed of your status - Check in with your DSO assessor once a year and let them know if your situation has changed (move of address, new job, etc.)



How to use the DSO website

The DSO website is a fantastic source of information. Apart from using it to find your local area DSO and application materials, you can also find resources on:
The Passport Program: Find out what expenses are eligible for coverage, locate your local Passport agency, and learn more about the Passport eClaim service.
Transition Planning: Get tips and advice that will help you support your loved one with a disability transition from childhood to adulthood.
Housing: The DSO Housing Toolkit is packed with information on exploring individualized housing options. We recommend reading their guide that provides an overview of how to use the Toolkit first.

Further Resources

The DSO has a list of resources you can access while you're waiting to hear about your application. You can find them here.